Signature Task FAQ

What is Signature Task?
Signature Task is a way to simply and instantly collect digital signatures from the field. Signee's use the touchscreen on their mobile device to provide their signature within a GoSpotCheck Mission. 
Who can use it?
Company Administrators can create new missions using Signature Task beginning April 2016. These missions can be completed by all users of the GoSpotCheck Mobile App, who are able to view and submit missions containing Signature Task.
Which mobile devices support Signature Task?
Signature Task is available on all iOS and Android phones, which are operating the latest version of the GoSpotCheck app
NOTE: Missions containing Signature Task cannot be viewed on older versions of the GoSpotCheck Mobile App.
Do I have to pay extra for Signature Task?
As with all tasks types, Signature Task is included in your license at no additional cost.
Can I use Signature Task with MyGSC?
Signature Task is not compatible with MyGSC at this time.  
How do I add Signature Task to a mission?
Add a signature tasks in the same way you'd add other tasks to a mission. The signature task tile appears alphabetically in the "+ New Task" menu.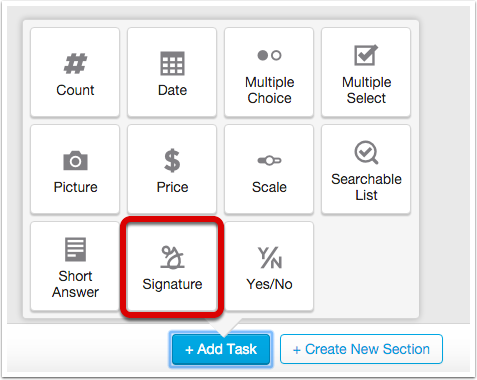 Can Signature Task be used as a conditional task?
Yes! A signature can be used as a conditional task.
Why can't I view the collected signatures in the Mission Overview?
Once a mission response has been submitted, it is no longer visible in the history tab for app users or in the Reporting Overview for administrators.  Storing and displaying a signature is a liability for the signer, so actual signatures are hidden for privacy.

Instead, the name of the signer and the date when the signature was collected is displayed as a supplemental feature with signature tasks.  


Are signatures captured with Signature Task considered legally binding?
While Signature Task is an effective tool to collect signatures out in the field, it does not provide the same legal implications as other official digital signature collection tools. If you intend to use these signatures as legal validation, please consult outside counsel.
How are signatures stored?
Signatures are stored securely on GoSpotCheck servers. No one outside of GoSpotCheck will have access to these signatures.
How do I obtain the signature file?
If you need access to a signature image file after it has been submitted, you will need written permission from the signer to share the signature. Once permission is received, GoSpotCheck will be able to share the requested signature with the company admin.
---
To help introduce signature task to your mobile users in the field, feel free to share the following:
Sample intro for Admins to share with Mobile Users:
Hi team,

GoSpotCheck has just added a new task type for signatures!  You may see this added to current missions as well as new missions to come.  

To complete a signature task task, you'll need to click on "Add Signature" in the task.  Your screen will then rotate horizontally.  In the text box at the top, please have the signer type his or her name.  You can then have them sign with a finger or stylus in the space below.  Once signed, click "Done" and you can move on to the next task in the mission.

If you have any questions, let me know!