Creating & Managing Alerts
Use Filters to Create Alerts
Alerts are email messages and app notifications that are sent whenever a new mission response matches filter criteria.
When you save a filter, you have the option add an alert. A pop up like the following appears: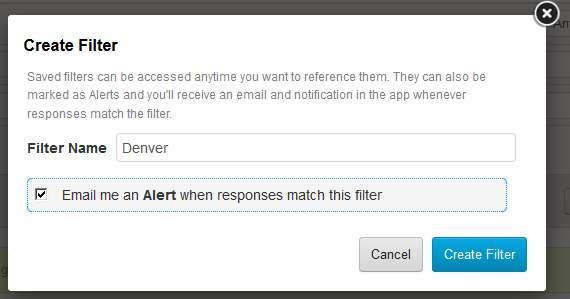 Once you've created an alert, you will receive an email whenever a mission response meets the criteria you've set; you will not receive alerts for mission responses completed before the filter and alert were created.
Alerts are user-specific. Other Admins will not receive your alerts.
Alert Email
The email will look something like this: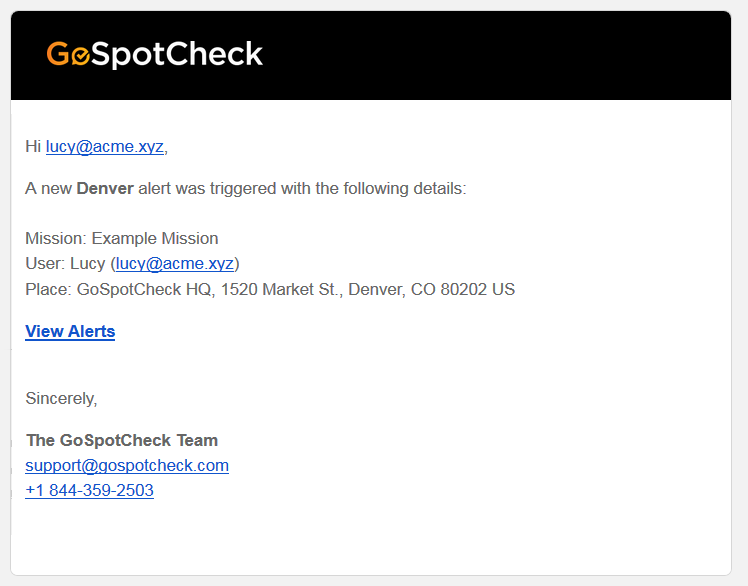 Reviewing Alerts
The email will direct you to the Alerts page within the Mission. This page will display all other Mission Responses which have triggered alerts. From here, you can click the Mission Response that triggered the Alert to review the details, or you can dismiss the Alert by clicking the button on the right.

For a comprehensive list of mission responses that have triggered alerts across all of your missions, click Alerts in the drop down menu. From here, you can navigate to the new Mission Response by clicking it's name under the Mission Response column.
Managing Alerts
Should you wish to modify or remove an existing alert, return to the Mission Overview Page and click the Filter Dropdown to find the Filter associated with the Alert. Click Edit Filter and uncheck the Email Me an Alert checkbox. Click Save when finished.