Advanced Features
When creating a Mission, there are a number of additional options you can select to fine tune the availability of your mission in the field. We call these options, Advanced Features, and they are included in the Advanced Feature dropdown of every Mission that is currently editable.
Show Advanced Features
From the Mission Edit page, click the blue triangle beside Show Advanced Features.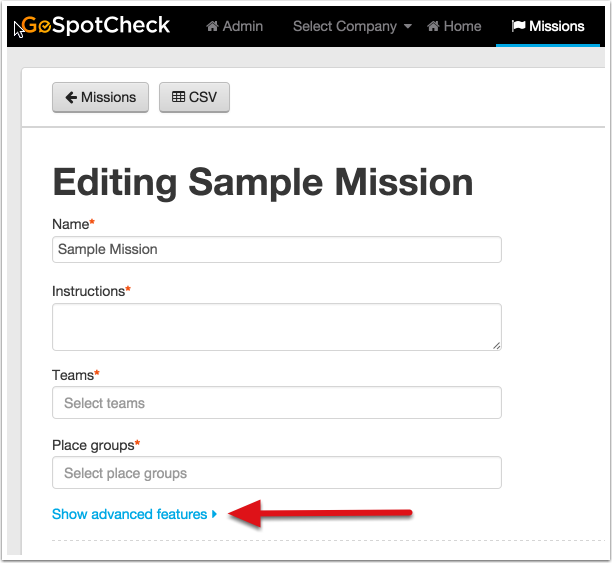 The Advanced Feature dropdown includes the following options: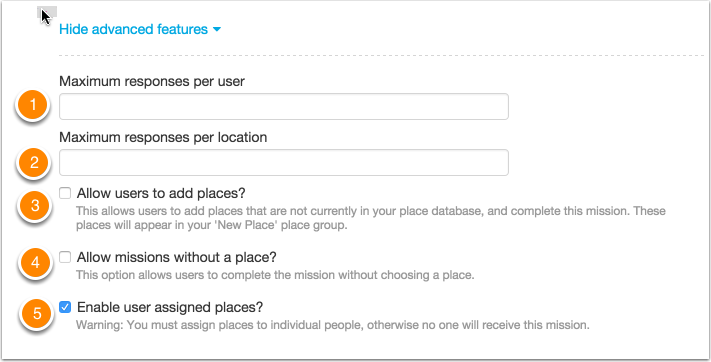 Maximum responses per user: Limits the number of times an individual user is able to complete this mission, regardless of place. After achieving the maximum number, the mission will no longer appear on a user's device.
Maximum responses per location: Limits the number of times the mission is able to be completed at a specific location. Useful if you only need the data from each location a specific number of times. For example, if you enter the number "1" into this field, the mission will disappear from that place on all users' devices after the mission is completed once at that place.
Allow users to add places?  Allows users to add places not included in the market's place database.
Allow missions without a place? Allows users to complete the mission without a place selected (this mission becomes known as an Anywhere Mission). Useful in environments where the place is hard to define, i.e. an Planes, Trains or Automobiles, etc.
*NOTE: Anywhere Missions cannot be completed via MyGSC
Enable User Assigned Places? Deploys mission ONLY to assigned accounts contained in the Place Group selected. For example, if a mission is deployed to the "Walmart" Place Group, checking the "Enable User Assigned Places" option will allow users to view this mission only at Walmart locations to which they have been assigned.
When finished making your selections, feel free to collapse the dropdown by clicking Hide Advanced Features. From there, you can resume creating/editing your mission.