PhotoWorks - Release Notes
A readout of the latest new features, enhancements and bug fixes to PhotoWorks. Most recent releases appear at the top ☝️
---
2.1.5 Release
NEW FEATURES
PDF Export: You can now export your photos and Albums in PDF format
When exporting photos from your Photo Library or the Album detail page, you can now choose PDF from the Export format options.
Under the Layout options, select 1, 4, 6, or 9 photos per page.

If you've chosen 1, 4, or 6 photos per page, you can also choose to include photo details on each page.
Note: due to space limitations, you cannot include photo details on a PDF with 9 photos per page.

PDF Exports can include up to 1000 photos.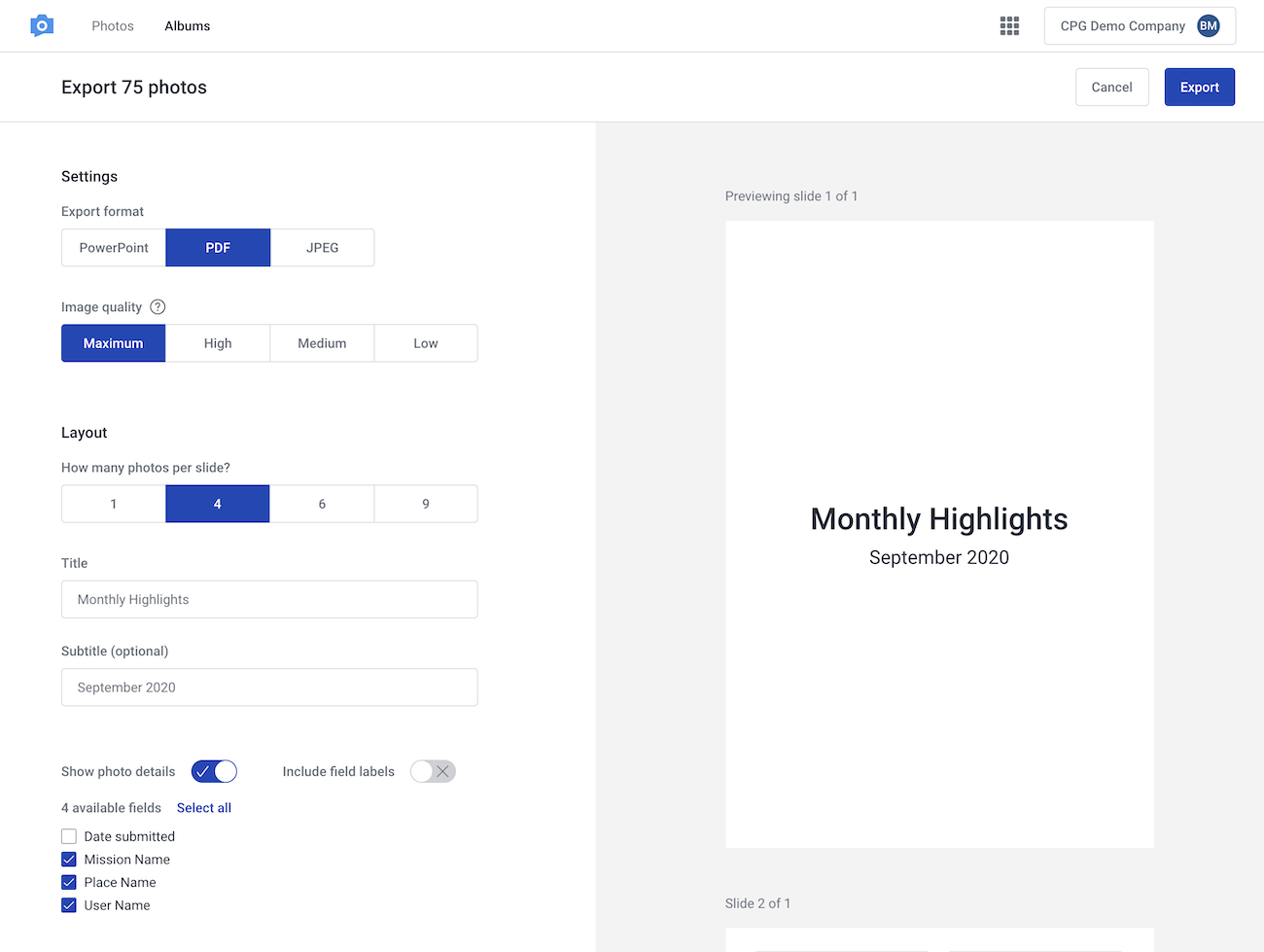 ENHANCEMENTS
PhotoWorks exports will now be deleted after 60 days.
We updated the language on a few error pages to display more accurate information.

---
2.1.4 Release
ENHANCEMENTS
Based on feedback from our customers, the Select Mode experience has been updated.
After selecting a photo, you no longer see a dark overlay on the remaining photos. Instead, a drop shadow appears under the other photos to indicate select mode.
Additionally, when your mouse hovers over an image, the dark overlay has also been replaced with a drop shadow (web only).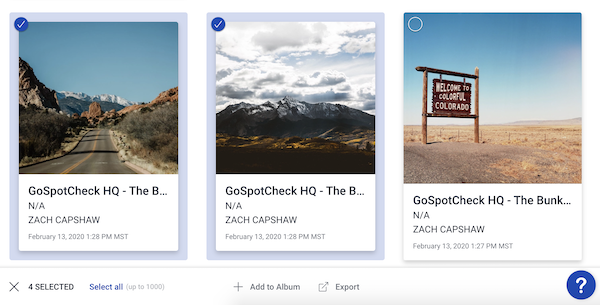 ---
2.1.3 Release
NEW FEATURES
Albums: You can now create albums to save a collection of photos.
When selecting photos in your photo library, you now have an option to "Add to Album"
You can view all of your Albums by clicking the Albums link in the navigation bar.
Create new Albums by clicking the "Add to Album" button or by navigating to the Albums page.
You can edit the contents of an Album by clicking the [...] button in the top right corner of the album view
You can export the entire contents of an album to PowerPoint or JPG by clicking "export album" in the top right menu.
Albums are unique to a user. Only you can see the Albums you create.
You can create an unlimited number of Albums. An Album can hold up to 1000 photos.
ENHANCEMENTS
We added several new options for filtering photos, including by:
Postal code
Section title
Place full address (Place name and address combined)
When you sort the photo grid by dimensions other than date, PowerPoint exports will now include a section title slide between each grouping of photos.
BUG FIXES
We fixed a couple of issues where typing or pasting text into filters did not return expected results.
We fixed an issue where certain filters appeared on the settings page that were not usable for that company.
We fixed an issue where customers on the Trial tier did not have a full 12 months of photo history available.