PhotoWorks - Release Notes
A readout of the latest new features, enhancements and bug fixes to PhotoWorks. Most recent releases appear at the top ☝️
---
3.0.0 Release
NEW FEATURE
Smart Albums: You can now create and share a dynamic collection of photos in Smart Albums based on a set of filters.
After you've applied filters, click the Saved Views dropdown and select Save as smart album.
Name your album and click Save Album.
Go to the Albums tab to access your Smart Album.
Smart Albums will contain the 1000 most recently captured photos that meet the filter criteria.
You can share Smart Albums just like you can share Standard Albums. The photos available in the share link will update dynamically depending on your filters.


Note: previously created share links are not backwards compatible and will no longer work.
BUG FIXES
We fixed an issue that prevented Context filters information values from appearing on the Card layout.
As you may have noticed, we encountered a bug that resulted in a sync failure on February 18, 2021 that prevented photos from appearing in PhotoWorks. We've released a temporary fix and are working on addressing the root cause to prevent a repeat.
---

2.4.1 Release
NEW FEATURE
Saved Views: You can now save a set of filters and a sort criteria as a Saved View to easily access your frequently used filters.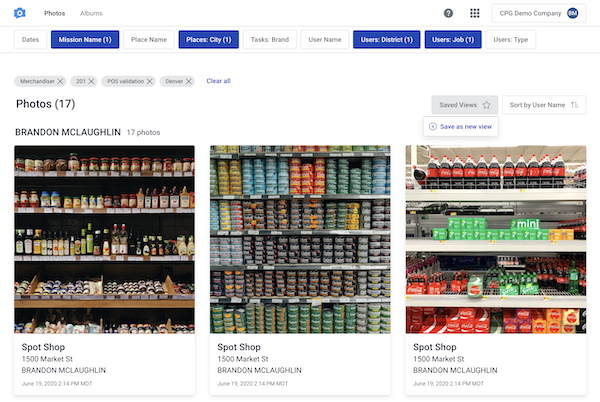 After you've applied filters and determined the way you'd like to sort your photo results, click the Saved Views dropdown and select Save as new view.
Name your view and click Save View.
Click the dropdown to access your saved views.
Click the Trashcan icon next to any Saved View you wish to delete.
BUG FIXES
We improved the data sync mechanism to mitigate the issue of photos persisting in PhotoWorks after they've been removed from a task response.
---
2.3.3 Release
ENHANCEMENTS
You can now access the photo details view from an Album or Share Link. While viewing a PhotoWorks Album or Share Link, click on any photo to enlarge and view photo details. Use the left and right arrows to toggle between photos within the Album.

Note: Share Link viewers who are not logged in to a GoSpotCheck account will see a limited set of Photo Details.

You can now 'Select all' while adding photos from within a new Album.


You can now clear all filters at once with the Clear all button.
You can now delete Exports from the Exports page by clicking the trashcan icon.
2.3.2 Release
ENHANCEMENTS
Share links now include the https:// prefix for compatibility with Outlook.
BUG FIXES
We fixed a bug that caused images to appear cropped in the photo details view.
---
2.3.1 Release
ENHANCEMENTS
Users can now access photo details while in Select Mode. After you have selected a photo, simply click the magnifying glass icon in the bottom right corner of any image to see photo details. Your selected photos will persist when you return to the photo grid.
By popular demand, users can now Select all across sorted photos. Keep in mind that 'Select all' will only select the first 1000 photos, including those that may be hidden by a "Show all # photos" button.
BUG FIXES
We made an update to PhotoWorks exports to reduce the number of stalled exports.
---
2.3.0 Release
NEW FEATURES
Share Links: Create a public link for any of your PhotoWorks Albums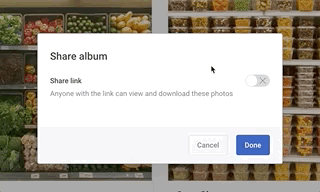 Share an Album with anyone with an internet connection, including individuals who do not have a GoSpotCheck log-in, using a PhotoWorks Share Link. Share Links enable viewers to view (and coming soon, export) any of the photos within the Album.
ENHANCEMENTS
We removed the link to Photo Album (Legacy) as part of the Legacy Photo Album Shutdown.
BUG FIXES
We fixed an issue where certain settings from the company group space were visible in the company spaces.

We fixed an issue that prevented new companies from joining an existing company group space.
---
2.2.3 Release
ENHANCEMENTS
The Resource Center is now anchored on to the ❔ icon in the Global Navigation Bar

Photos captured within the same Mission Response will now be sorted by task position, ascending, so the order of photos will match the order they appear in the mission. Multiple photos captured for a single task will always appear side-by-side.

Note: this sort will not be selectable as an option in the Sort by dropdown.

When exporting to Powerpoint or PDF, the checkboxes beside available metadata are now alphabetized, except for date, which will always appear first.

Note: this update only alphabetizes the checkboxes on the export settings screen, but does not impact the order in which the data appears in the exported file.

When Selecting Photos, the Add to Album and Export now have button states.

---
2.2.2 Release
ENHANCEMENTS
PDF Export: You can now export your photos and Albums in PDF format
When exporting photos from your Photo Library or the Album detail page, you can now choose PDF from the Export format options.
Under the Layout options, select 1, 4, 6, or 9 photos per page.

If you've chosen 1, 4, or 6 photos per page, you can also choose to include photo details on each page.
Note: due to space limitations, you cannot include photo details on a PDF with 9 photos per page.

PDF Exports can include up to 1000 photos.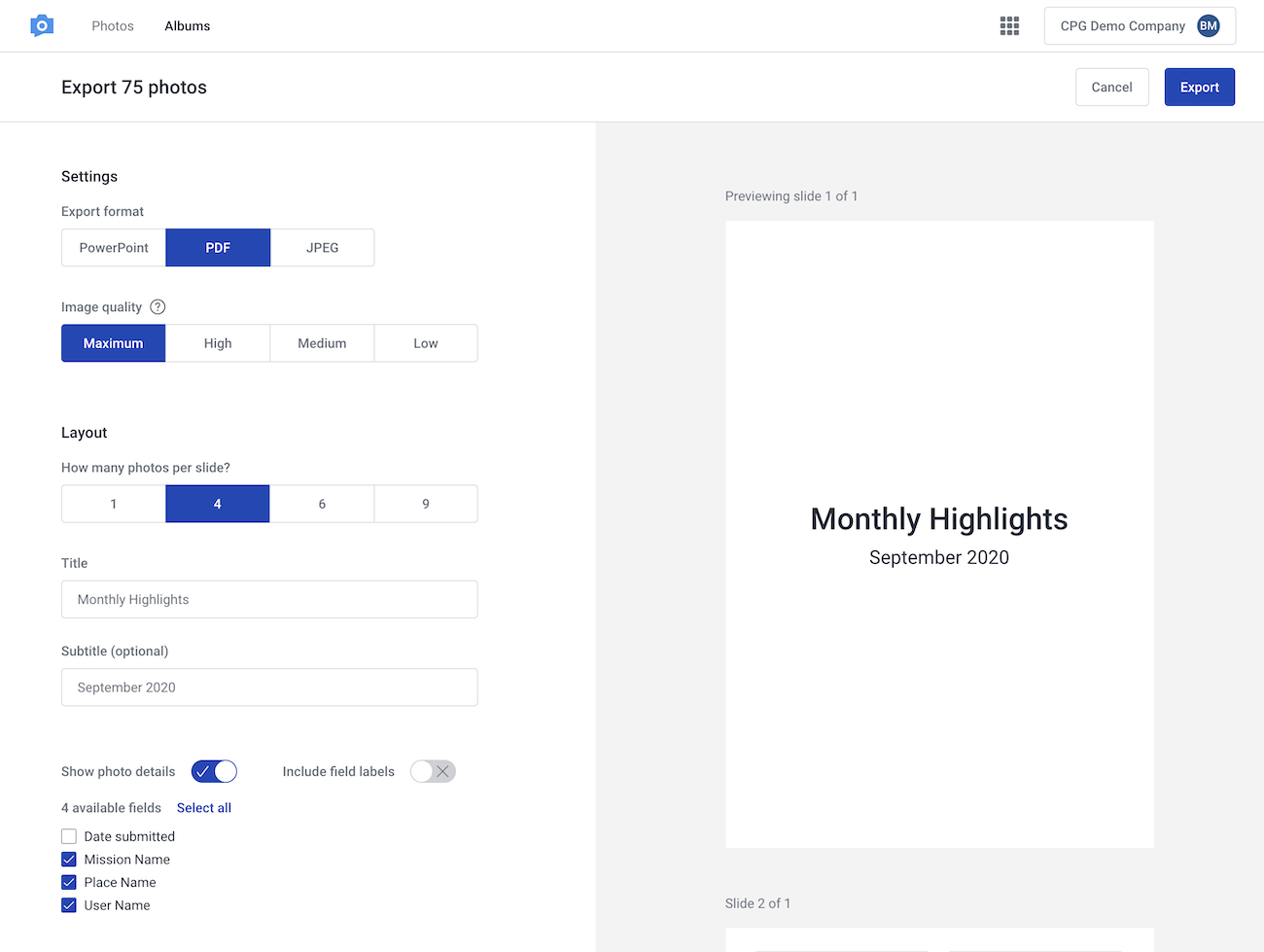 PhotoWorks exports will now be deleted after 60 days.
We updated the language on a few error pages to display more accurate information.

---
2.2.1 Release
ENHANCEMENTS
Based on feedback from our customers, the Select Mode experience has been updated.
After selecting a photo, you no longer see a dark overlay on the remaining photos. Instead, a drop shadow appears under the other photos to indicate select mode.
Additionally, when your mouse hovers over an image, the dark overlay has also been replaced with a drop shadow (web only).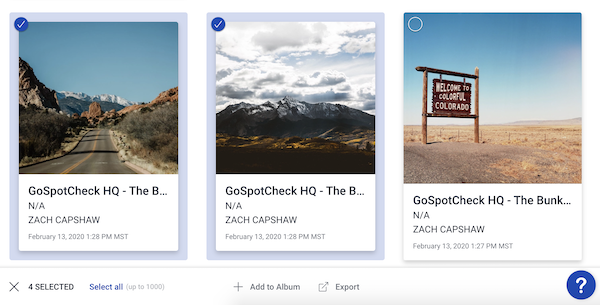 ---
2.2.0 Release
NEW FEATURES
Albums: You can now create albums to save a collection of photos.
When selecting photos in your photo library, you now have an option to "Add to Album"
You can view all of your Albums by clicking the Albums link in the navigation bar.
Create new Albums by clicking the "Add to Album" button or by navigating to the Albums page.
You can edit the contents of an Album by clicking the [...] button in the top right corner of the album view
You can export the entire contents of an album to PowerPoint or JPG by clicking "export album" in the top right menu.
Albums are unique to a user. Only you can see the Albums you create.
You can create an unlimited number of Albums. An Album can hold up to 1000 photos.
ENHANCEMENTS
We added several new options for filtering photos, including by:
Postal code
Section title
Place full address (Place name and address combined)
When you sort the photo grid by dimensions other than date, PowerPoint exports will now include a section title slide between each grouping of photos.
BUG FIXES
We fixed a couple of issues where typing or pasting text into filters did not return expected results.
We fixed an issue where certain filters appeared on the settings page that were not usable for that company.
We fixed an issue where customers on the Trial tier did not have a full 12 months of photo history available.