People View
To view your users, select People from the main navigation bar at the top of the page.
The People view shows all of your users, and if you drill down to an individual, you can also view their role, mission responses, and their contact information.
On the main People page, people are categorized by their Activation Status:
| | |
| --- | --- |
| ALL | Click All to view all of the people that have been added to the account. This category includes all of the people in the next four categories.  |
| ENABLED | Enabled users are those that have already logged into their GoSpotCheck apps. These people are able to complete missions that have been assigned to them. |
| DISABLED | These are people that have been disabled from GoSpotCheck and are no longer allowed or able to complete missions. We don't like to delete your data, so these people are disabled instead. |
| INVITED | These are people who have received an automatic invitation from GoSpotCheck that includes information on how to download and set up their app. If a user is in this category, they have been invited but have not yet logged in to their GoSpotCheck app. |
| NEED INVITATION | You can choose to add a user without them receiving an explicit invitation from GoSpotCheck. If a user is in this category, they can still download the app and log in with the email address associated with their name. If in this category, the user has not yet logged in to their GoSpotCheck app.  |
Search for a User
If you have a specific user (person) you want to search for, you can do so from the People page. 
Go to the People homepage. You can select All, Enabled, Disabled, Invited, or Need Invitation if you want to drill down to a specific category of people.
In the Search field, start to enter the name of the person you're looking for.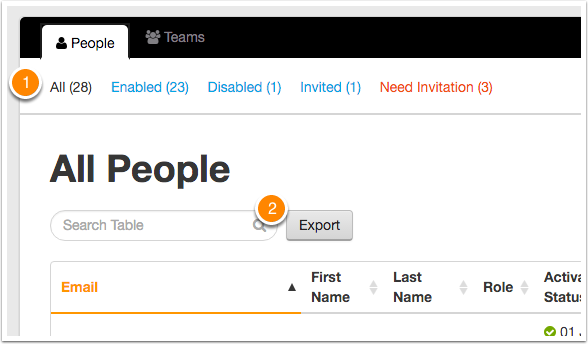 From here, you can click on the Person to view more detailed information, such as their mission responses, their Assigned Places, what teams they're on, or view their contact information. 
Tip: To return back to the full list of people, click the X in the search field. Alternatively, you can simply delete the text you typed in that field.
Viewing People
You can adjust the way you view your People in a couple ways.
Sort
Select the column header of the field that you would like to sort by. The first time you click the column header, the list will sort in ascending order. To sort in descending order, click the header a second time.

Show
You can also modify the number of people visible on a single page. Just click the Show drop-down menu on the right side of the page. You can then select the number of people you would like to see per page. The number of people shown will automatically update.
Exporting People
You can export a CSV file of your People from the All People page. 
From the People homepage, select All, Enabled, Disabled, Invited, or Need Invitation to export the group of people that you're interested in. 
Click Export. 
You will receive a message that GoSpotCheck is generating the CSV, with a link to access the file. Alternatively, you can access downloaded files at any time by selecting your email in the main navigation bar, then selecting Downloads.