Adding Multiple Places
The CSV Upload feature allows Company Admins to easily add or update multiple Places at the same time into your GoSpotCheck account.
Access CSV Uploads
There are two ways to access CSV Uploads for Places:
Navigate to your user drop-down menu

in the top right hand corner, and then select

CSV Uploads. 

In the "Choose Upload Type" menu that appears, select Places. Click the blue "+ CSV Upload" button to continue.


Navigate to the 

Places

 tab from the Navigation Bar 

In the top right hand corner, click on CSV Upload  
CSV Upload Overview
The first time you use the CSV Upload feature, you receive CSV message that outlines the steps of the upload process. If you prefer to not see the message again, click the box to insert a checkmark, then click Ok, let's go.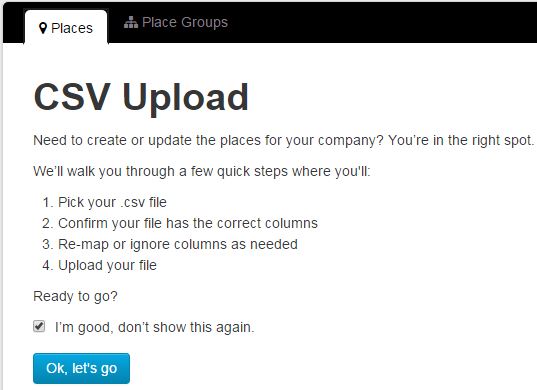 Places: Create New or Update Existing?
The CSV Upload tool allows you to add or update multiple Places at once. To add new Places, select "Create New Places." To modify existing Places, click on "Update Existing Places."

Preparing Your File
Depending on your selection, create a CSV file containing the places you wish to add/update. The CSV file must contain the following required headers:
NEW PLACES

EXISTING PLACES

name




address




city




state




postal code




country


*custom_id

*custom_id: while not a required field, including a unique custom_id from your master database is extremely helpful for data maintenance down the line.

id
(any fields you wish to update)

 

 

 

 

Uploading Your File
When you are ready to upload a CSV file, click Choose.
Select the file you want to upload, and then click Open > Next.
The system verifies that the CSV file you are about to upload contains the required columns. Click into the column name box (highlighted in blue) to match up the required columns and, if necessary, match them up to ones from your file and click OK.
When finished, click Process CSV. You will receive confirmation that your CSV upload is in process. Once it completes, you see Completed in the status column.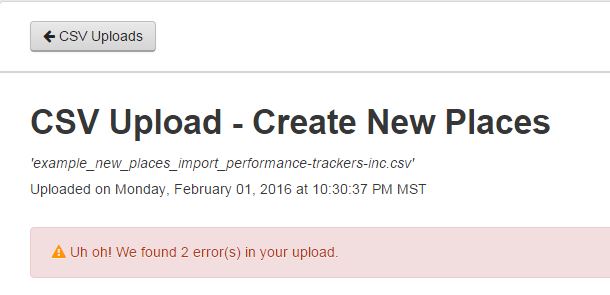 In addition, you receive an email message that your CSV Upload has completed. This message also informs you of any failures in the upload. Click View Upload Details to learn more.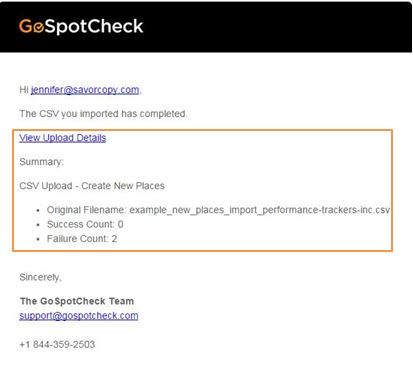 From the GoSpotCheck CSV Upload – Create New Places page, click Export Errors to CSV.
From your Downloads page, download the CSV file that indicates errors.
View the error_message column to identify errors in the file.
From the CSV Upload – Create New Places page, access your original import to make any necessary corrections to the file.
Repeat steps 6 – 10 to upload the corrected file.
Click Places to verify the new places have been added.