Activate Your Account
The first time you sign into GoSpotCheck, you'll be prompted to activate your account.
After your account administrator has added you as user in GoSpotCheck, follow the instructions below to activate your account.
From an Internet browser, navigate to gospotcheck.com.
From the top menu bar, select Sign in.

Click the "New user? Click here to set your password." button below the Sign In box.

Enter your email address and click Next.

Check your email and click the link to set your password. (This two-step authentication process ensures you are who you say you are and that you have a valid email address). 

Enter and re-confirm an 8 character password, and click Create Password.

That's it! You've activated your account and are now logged in to GoSpotCheck. Immediately after logging in, you will be taken to the GoSpotCheck Homepage for your account.
Admin Account Activation via Email Invitation
If your admin sends you an email invitation to get started in GSC, most of the work is done for you.
Click on the link in the email to confirm your email address (this verifies that your email is valid)
The link will bring you to Create a Password. Once you register and confirm your password, you can get started using GoSpotCheck!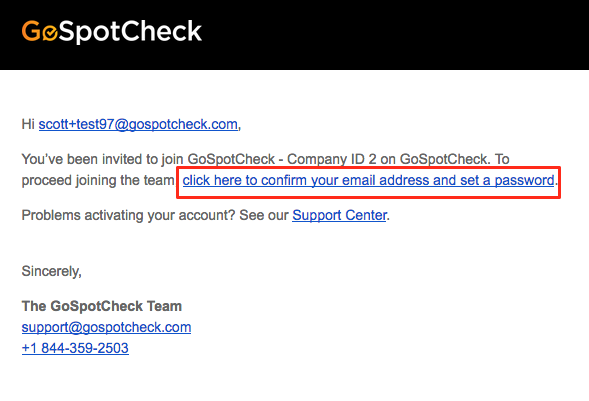 Activating Your Account with Single-Sign On
Single Sign-On (SSO) allows users to access multiple company applications just one set of login credentials. Utilizing SSO ensures that only users with the right authorization will be able to access GoSpotCheck.
If your company uses SSO to login to GoSpotCheck, your experience will be slightly different from what is outlined above. Rather than creating a username and password inside GoSpotCheck we will honor the credentials you use to login to your primary identity provider and redirect you to your company's login page.
To activate your account using your single sign-on credentials:
Navigate to gospotcheck.com from an Internet browser.
From the top menu bar, select Sign in.

Enter your company email address in the email field.

GoSpotCheck recognizes your email address as being associated with your company Single-Sign On, and will not require you to enter a password. Instead, click Sign In.

You'll be automatically redirected to your company's Identity Management portal, where you'll validate your identity. After doing so, you'll have successfully activated your account within GoSpotCheck, and you'll be returned to the GoSpotCheck Home Page.