Completing a Searchable List Task
Do you work with lists of SKUs, items, or products? Chances are you'll come across a Searchable List or Multi-select Searchable List Task! This Task allows you to make selections from an extensive list of options. These searchable lists are set up and managed by your Admin via the web dashboard. You can choose as many items as necessary, or your admin can decide to limit the number of items you can select.
The topic will provide the following information related to Searchable List Tasks:
Select Your Items

Complete Subtasks

Search for Items

Remove/Deselect Items

Add New Items

Quick Select
Select Your Items
Navigate to the Searchable List Task you want to complete.
Click Start Mission.
Within the Searchable List Task, tap the Select All That Apply (iOS) or Select (Android) buttons. You'll be taken to a list of items corresponding to the task. 
When you find the item you want to select, tap it to be taken to the item's subtasks.
Select multiple items at the same time by first tapping the Multi-select button (it will highlight in blue once tapped), and then tapping each item you'd like to add.


Additionally, if you want to select all of the items on your list, tap Select All (iOS) or tap into the uppermost box on an Android device (this box will be next to the 'Multi-select' button).

NOTE: The 'Select All' function will select all items from your current view. For example, if you search for 'Brand 1', you can select all of the items that are populated by that search term. You can add additional items by searching for 'Brand 2', tapping 'Multi-Select', then tapping 'Select All' or tapping into the uppermost box, depending on your device. Keep in mind, you can select up to 100 items at one time.
Complete Subtasks
To complete the subtasks associated with the items you've selected, look for the orange icon.
Tap on the item you want to complete a task for.
Once you have completed the subtasks associated with this item, tap Done to move on to other items, if you have them.

Search For Items
There are a number of ways to find the item you are seeking within a searchable list. First, you can use your finger to scroll up and down on the list. This works well for smaller lists, but for longer lists, we strongly recommend using the search bar to find the item you are seeking.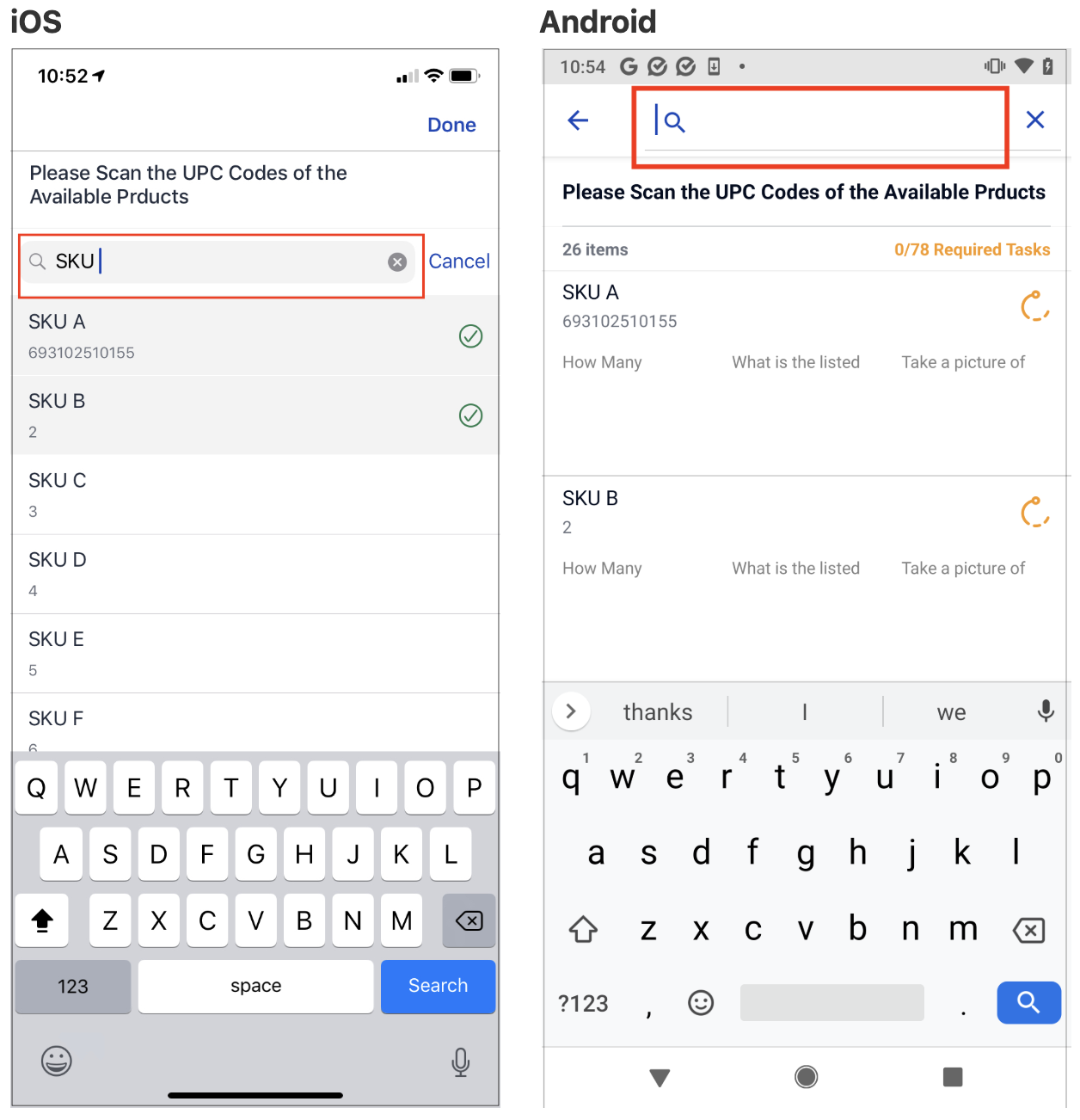 Remove/Deselect Items
If you accidentally tap an item you don't need during a Multi-select, don't worry! You can tap it again to Deselect the item. It will prompt you to confirm, just to be sure.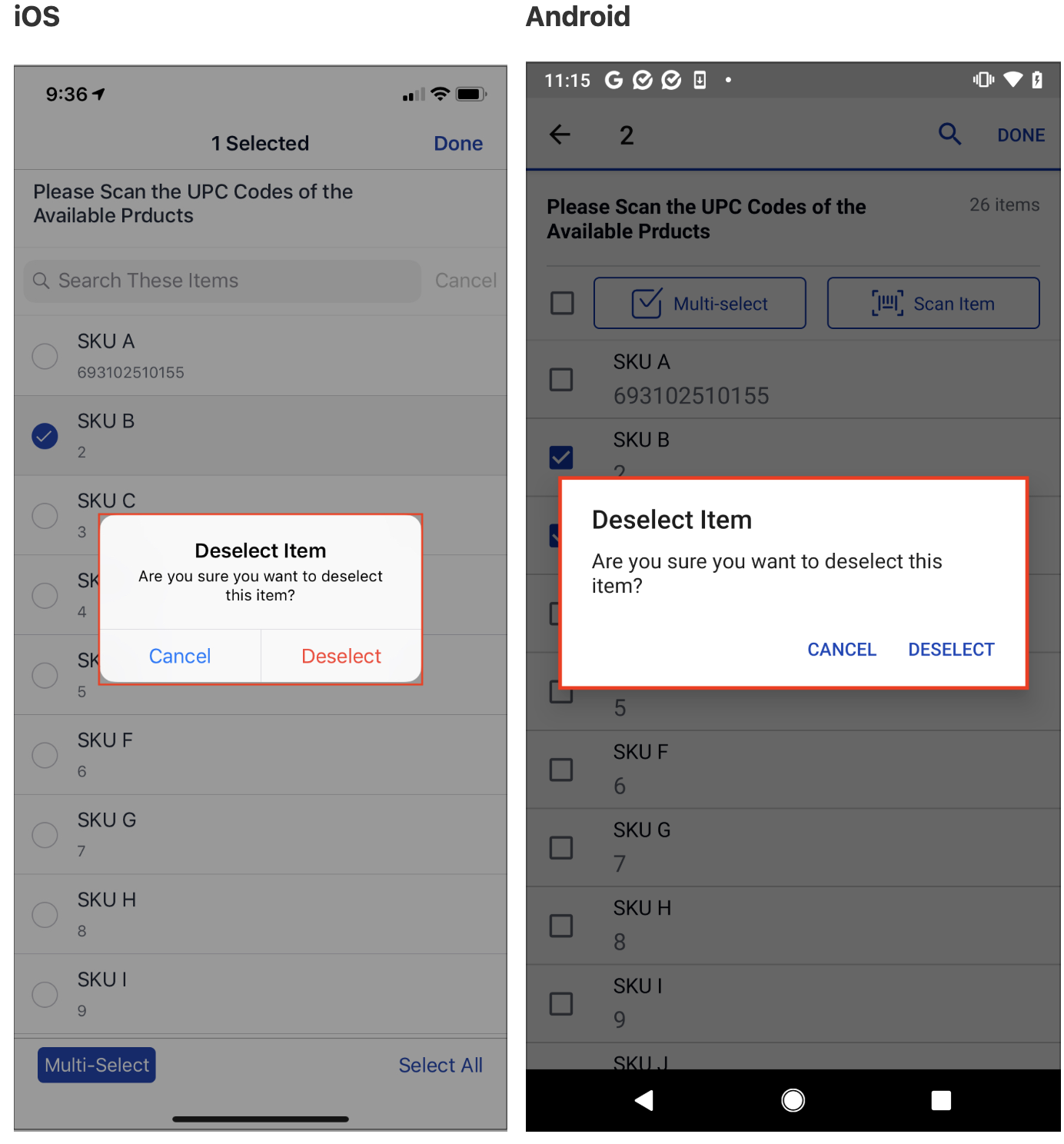 Adding New Items
iOS
Android
Do you need to find which items on your list are still missing required subtasks? You can do so by tapping the vertical ellipsis icon (three small dots) in the upper right corner of your screen. Select 'Sort items' and choose to sort by Incomplete. This will move all of your items with incomplete subtasks to the top of your list! You can also sort by Item Name or Custom ID.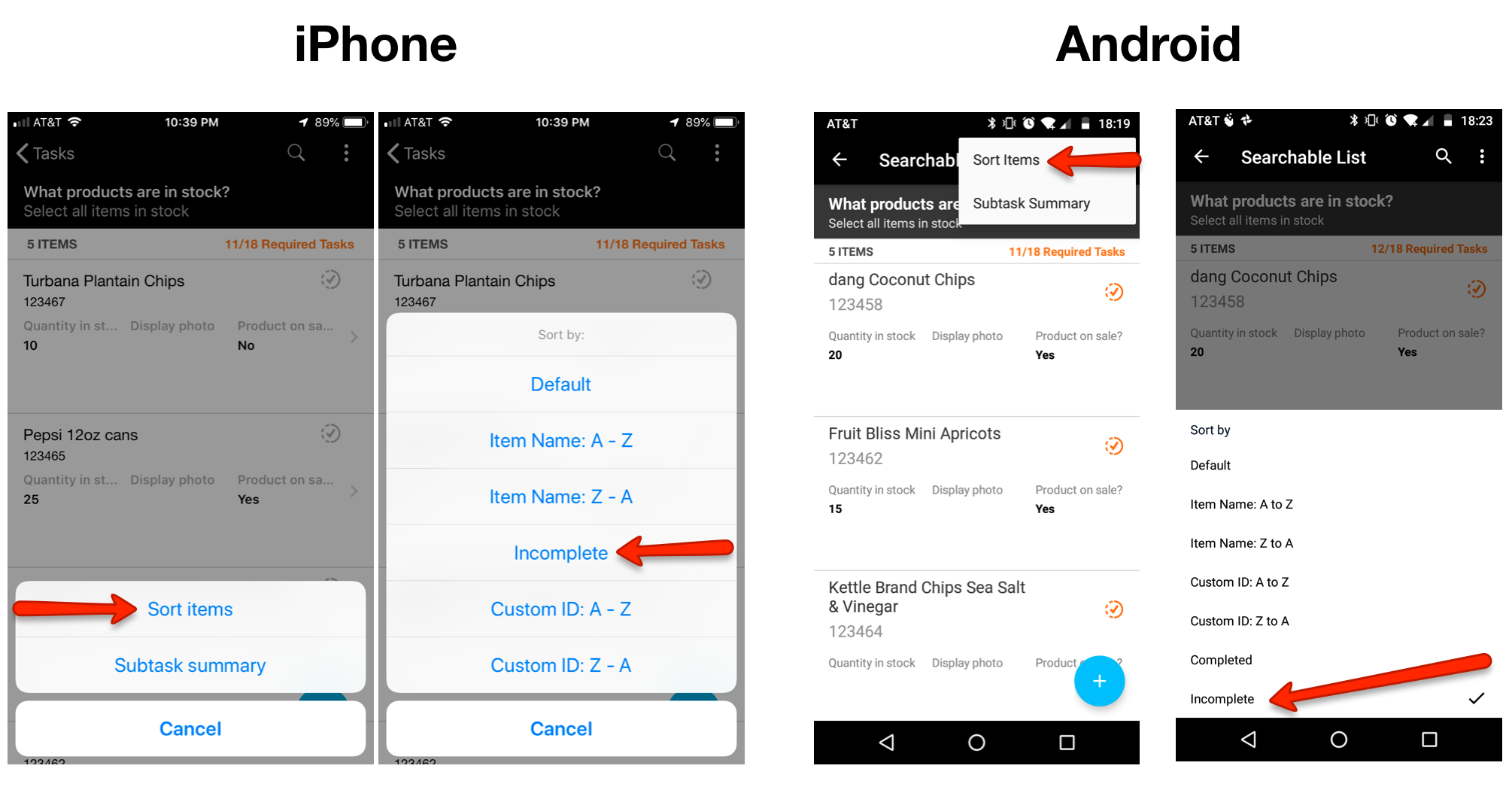 Need a quick summary of the subtasks you've completed so far? You can view a summary of your completed subtask responses by tapping the vertical ellipsis icon (three small dots) in the upper right corner of your screen and selecting 'Subtask summary' from the menu.  The summary will include a sum, or total of all items entered to that point.  The average will be the average value of the totals entered to that point, the minimum will be the lowest total and the max will be the highest total.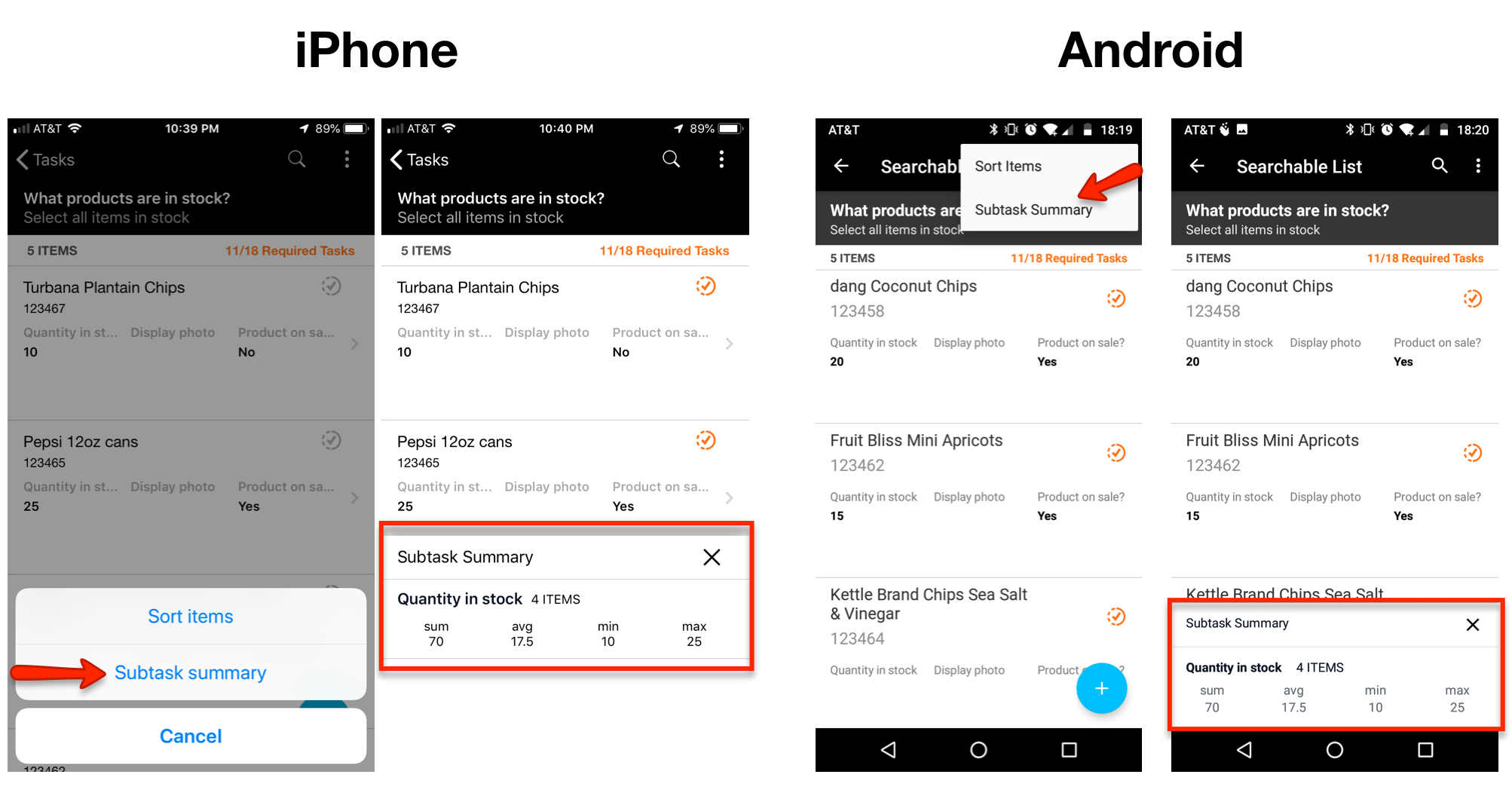 Once you are done with the subtasks, there will be a green check mark by each item. This means you're good to go!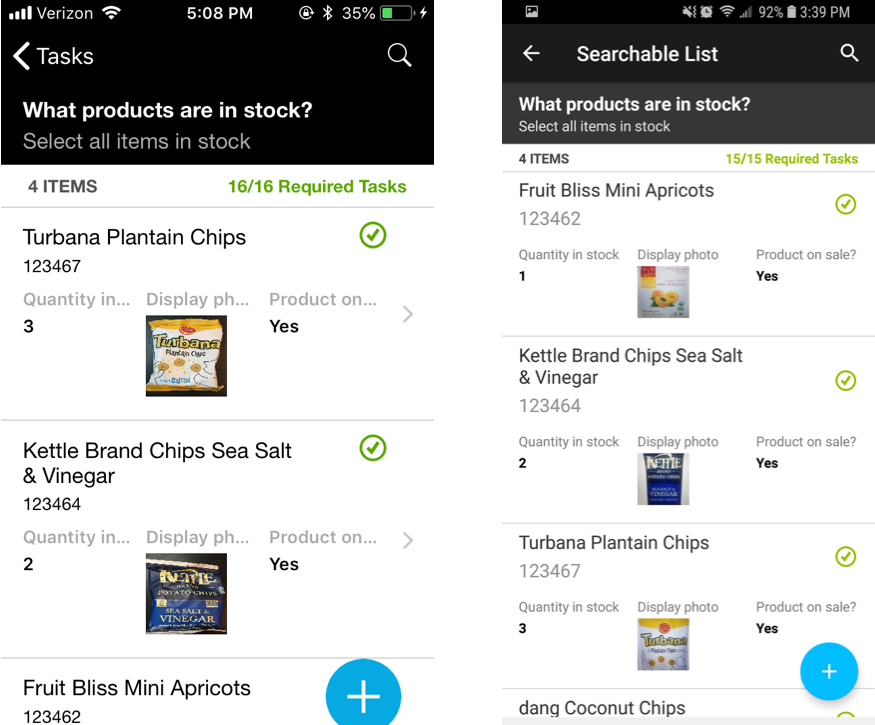 Need to delete an item? Simply swipe left on the item. This will prompt a confirmation, just to be sure. When you have finished editing items, tap 'Tasks' in the upper left-hand corner to return to the mission.



Quick Select
The Quick Select feature allows users to quickly scan the barcode of an item in their searchable list instead of typing it in. This feature can save time, and ensure accuracy!
The Quick Select functionality is a feature that has to be enabled within your company. Your company may or may not choose to use this feature. This is typically controlled by the Company Admin.
To use Quick Select, tap the Scan Item button, which will allow you to use the camera to scan either a shelf tag or item barcode.


NOTE: The "Scan Item" button will only appear on searchable lists that include scannable barcode data.
Your camera will pop up and you can bring the UPC label into focus.
Once the system recognizes the barcode, you'll be presented with any subtasks relevant to the recognized UPC.

 

If you have multiple items to select, once you've finished an item, you can select "Scan Item" again and scan your next item.
NOTE: 

This feature does not yet have the ability to scan multiple items at a time. Once an item is scanned and any subsequent subtasks are filled out, you can select "Scan Item" to begin the next item.

If your item was not found via barcode, you may get the following alert: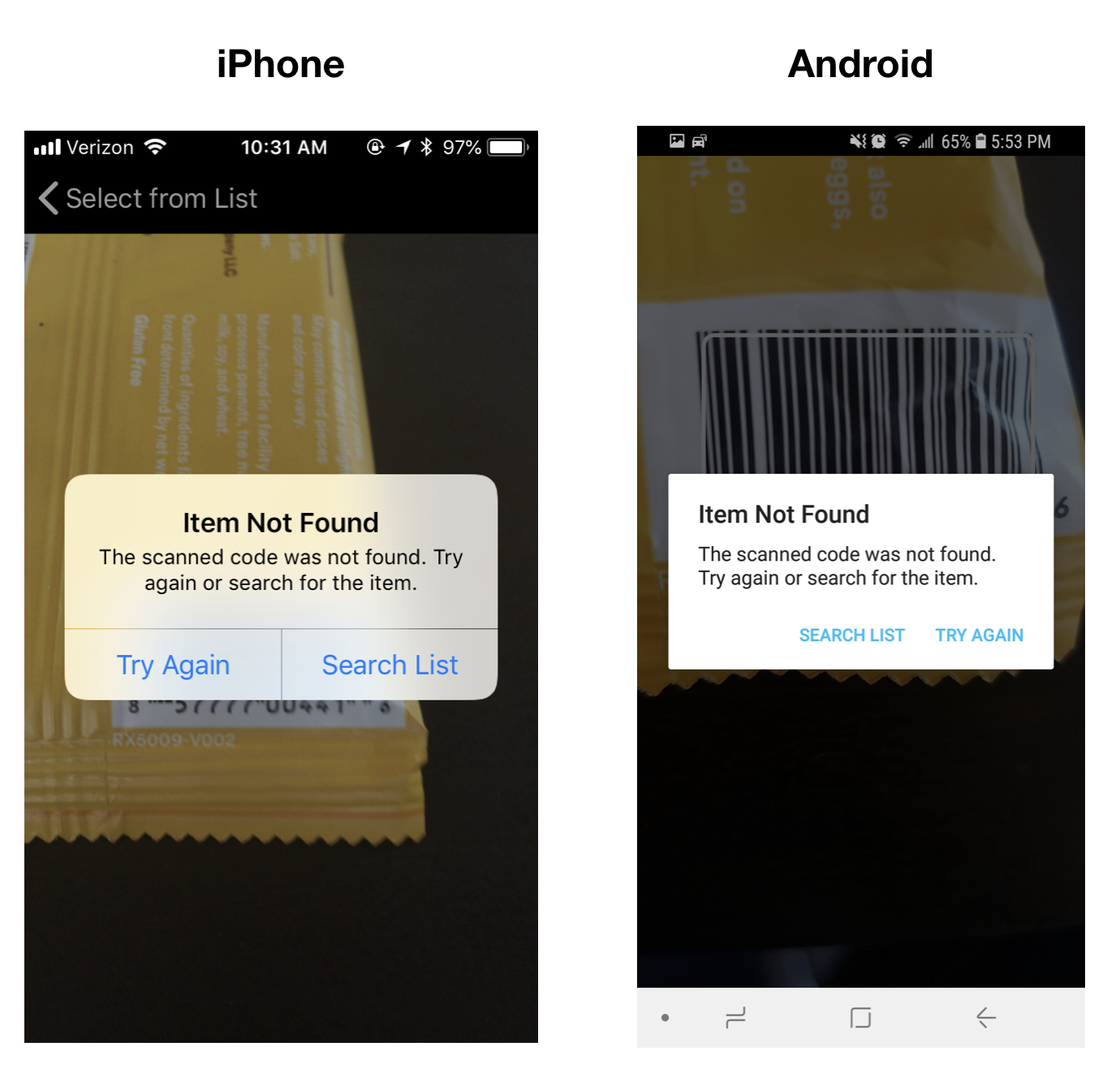 This can either indicate that the item does not match any barcodes on the list, or the barcode matched multiple items, so you may have to use the searchable list function instead.
Item Summary
The Item Summary Page displays each of the items you've selected from your Searchable List task. If there are any subtasks to complete, a preview of the task prompt and your response appears below the item name. On the top right, you can easily track the number of required subtasks you have completed (or have yet to complete).