Managing Tasks & Sections
________________________________________________________________________________________
NAVIGATION
________________________________________________________________________________________
New Mission Builder
CONTENTS
There are several ways to easily manage tasks and sections within a Mission, including rearranging, copying, and deleting within the Mission builder. 
Reorder tasks and sections
Within the Mission builder, the Structure panel displays the order in which tasks and sections appear within your Mission. Mission components can be rearranged within this panel. There are multiple ways to reconfigure components in the Structure panel:
Reorder tasks: Drag and drop a task above or below another task to change its order.
Add/edit conditional relationships: When you hover over a task in the Structure panel, a perimeter appears around each individual task.  To make a task conditional on another task, simply drag the desired conditional task into an existing task's perimeter. Likewise, a conditional task can be rearranged into a standalone task by dragging the task out of its parent task's perimeter and into its own row. Read more on conditional tasks

here

.
Reorder sections: To change the order of sections in the Structure panel, simply drag the section name to your desired location.
Reorder task answer options: Answer options can also be reordered in the Structure panel via drag and drop.
Tasks can also be reordered in bulk. Read more about bulk task actions here. 
Copy tasks and sections
Copy any task by clicking the Copy Task icon located on a task in the Mission builder:
Copy any section by clicking the Copy Section icon located on a section in the Mission builder: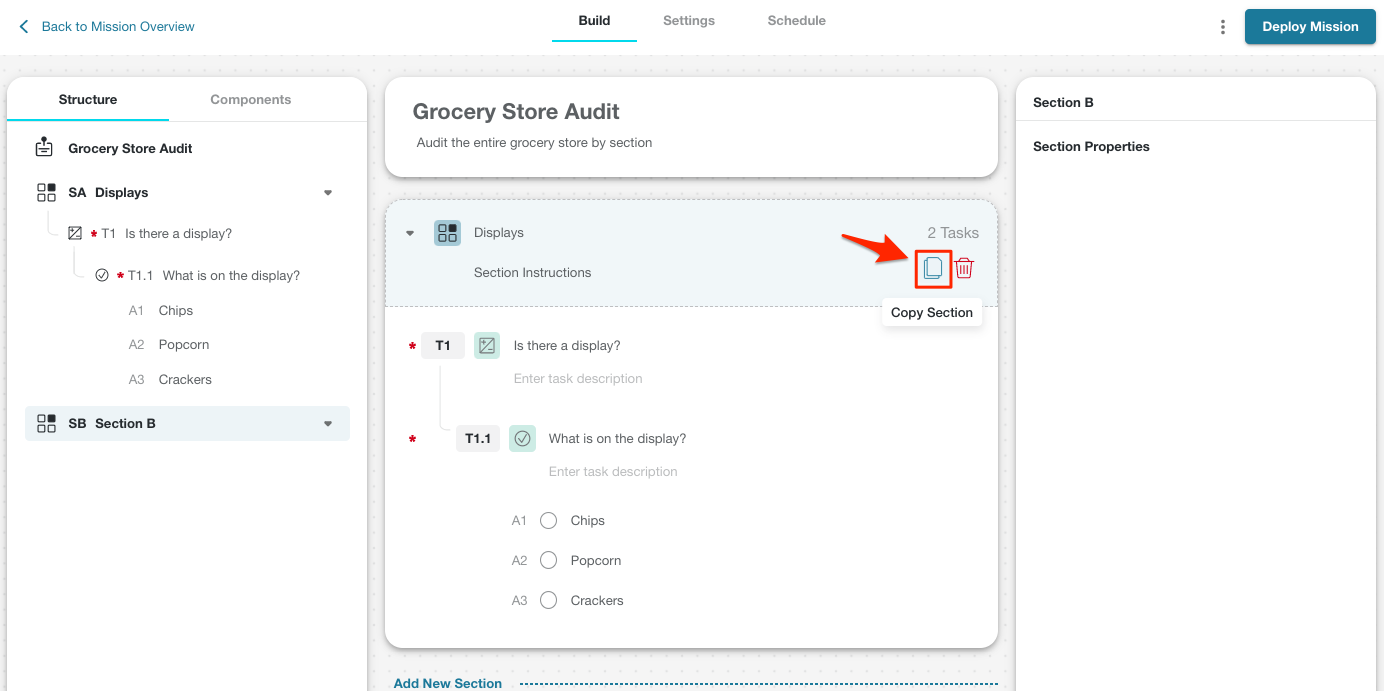 Tasks can also be copied in bulk. Read more about bulk task actions here. 
Delete tasks 
Delete tasks and sections by clicking the trash icon located on a task or section.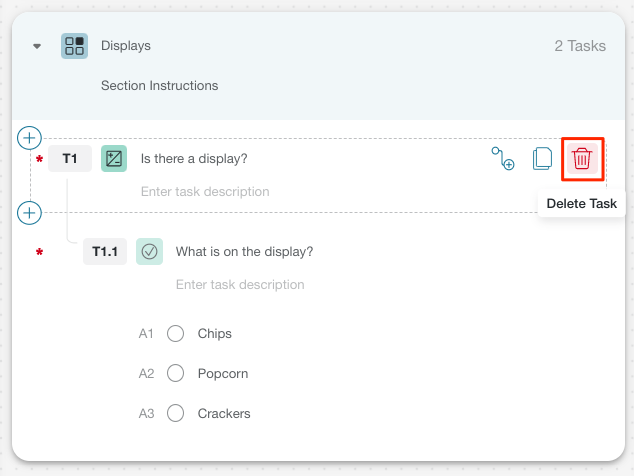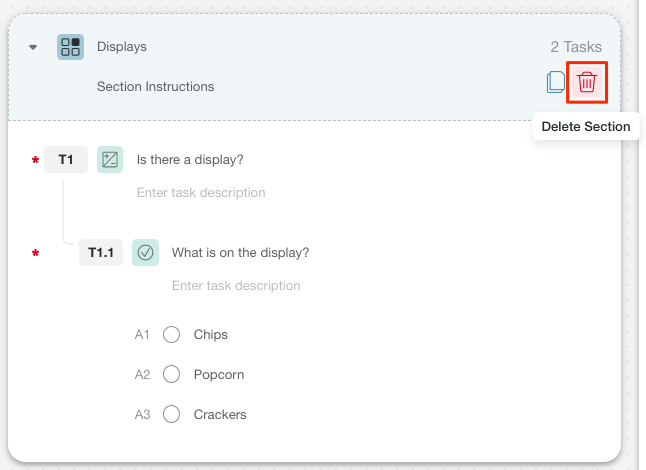 Tasks can also be deleted in bulk. Read more about bulk task actions here. 
________________________________________________________________________________________
Legacy Mission Builder
In order to start reordering sections or tasks, use the button with up and down arrows shown on the far left of the following button set:

You can reorder sections only by clicking on this reorder button next to the section's row, and similarly, you can reorder tasks within a section by clicking on the reorder button next to a task's row. To learn more about the other two buttons shown here, please see the section below.
When you enter reorder mode, select the task (or conditional task set) that you want to move by selecting its check box on the left.  The same applies when reordering sections.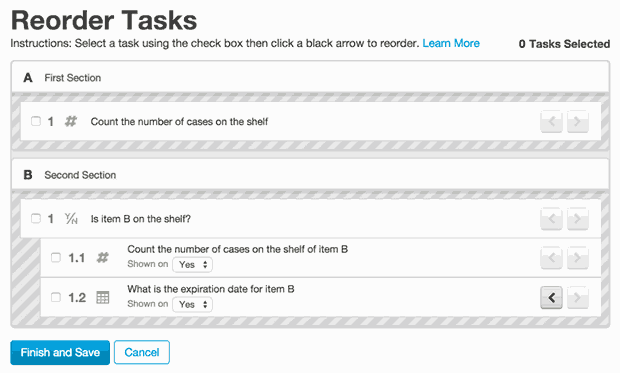 Once selected, your selected tasks light up in green and you'll see a couple of new options.  Black arrows will appear to the left and right, showing you where you can place your selected task(s), as demonstrated below.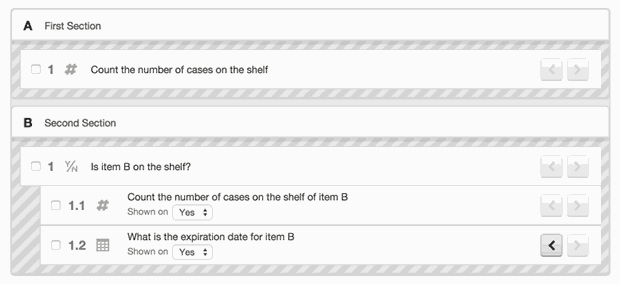 Select the black arrow where you'd like to drop the task or set of tasks.  If the move is ambiguous (i.e. its new location could make it part of a conditional set or it could be a standalone task), you'll receive an additional prompt for clarity.
You can also easily reorder conditional tasks by 'bumping' them left and right, changing the parent task they respond to. These 'bump' arrows are on the righthand side of each task row. When you bump a conditional task to fall under a new parent task, you will need to select a new option from the 'Shown on...' dropdown to tell the task when it will appear. If you bump a conditional parent task, the supporting tasks that follow will also move with it in order to not change that work flow.

Make sure to click the 'Finish and Save' when you're all done adjusting the order.
Copy
The button with the two documents icon allows you to copy a task or section. This is helpful if you have many similar tasks with different titles. You can simply copy the task or section and then edit any of the input fields.

Delete
You can also easily delete tasks or entire sections. At the far right side of a task or section, you will see a button with a trash can icon. This delete button will remove a task from your list. This cannot be undone, but you will be asked to confirm that you want to delete the task or section before it is deleted.