Manage Places
Places are the accounts and locations your users will visit to complete their Missions. In the Mobile App, GoSpotCheck displays the nearest 200 places within a 25-mile radius of the user's current location, in order of proximity. Further, it will only display the Places that have at least one Mission currently available for that user to complete. 
To view your Places, select Places from the main navigation bar at the top of the page.
Search for a Place
If you have a specific Place you want to search for, you can do so from the Places page.
From the Places homepage, select Enabled to search for an active Place, or select Disabled to search for an inactive place.
In the Search Table field, enter the name of the Place.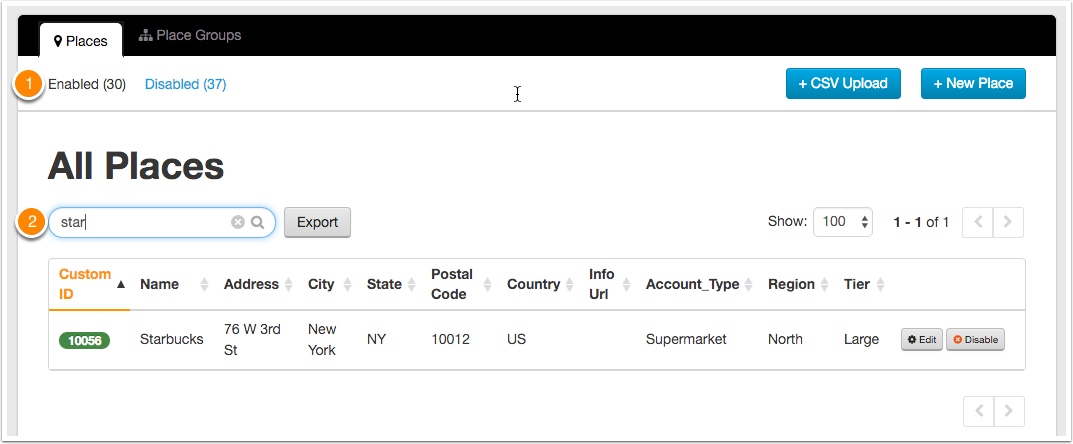 From here, you can click the Place to view more detailed information, such as contacts, properties, and mission responses.  
Tip: To return back to the full list of Places, click the X in the search field. Alternatively, you can simply delete the text you typed in that field.
Viewing Places
You can adjust the way you view your Places in a couple ways.

| | |
| --- | --- |
| Sort | Select the column header of the field that you would like to sort by. The first time you click the column header, the list will sort in ascending order. To sort in descending order, click the header a second time. |
| Show | You can also modify the number of places visible on a single page. Just click the Show drop-down menu on the right side of the page. You can then select the number of places you would like to see per page. The number of places shown will automatically update. |
Exporting Places
You can export a CSV file of your Places from the All Places page.
From the Places homepage, select Enabled if you want to export active places, or select Disabled if you want to export inactive places.  
Click Export.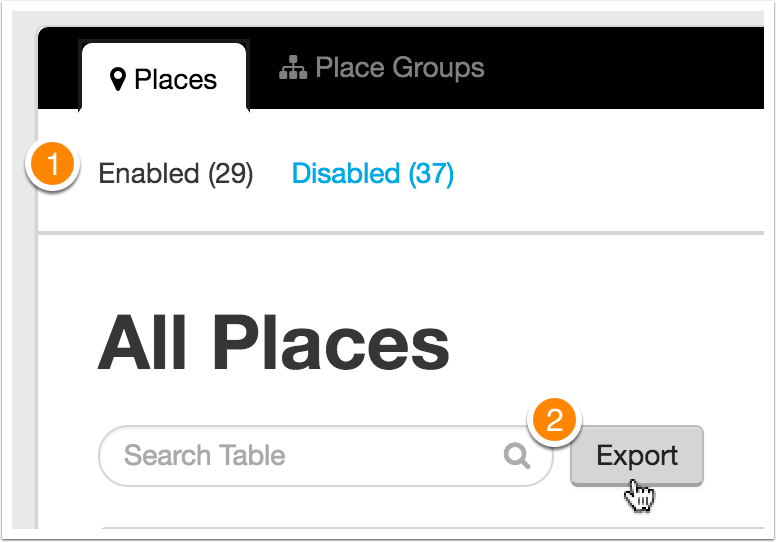 You will receive a message that GoSpotCheck is generating the CSV, with a link to access the file. Alternatively, you can access downloaded files at any time by selecting your email in the main navigation bar, then selecting Downloads.