Using the Mobile App while Offline
No WiFi or Cellular Internet Connection? No problem. The GoSpotCheck Mobile Application comes with robust offline capabilities, ensuring you're able to complete your work no matter your level of connectivity.
Activating Offline Mode
Offline Mode is automatically activated when your phone loses internet connectivity, and deactivated when connectivity is restored.
Alternatively, you can manually activate Offline Mode in your Mobile Settings menu. This can come in handy in locations with very weak internet connectivity, which can sometimes impact application performance. Manual Offline Mode enables you to simulate using the mobile application without an internet connection, without having to modify any of your global device settings (like Airplane Mode).
While offline, the following banner appears at the top of your screen: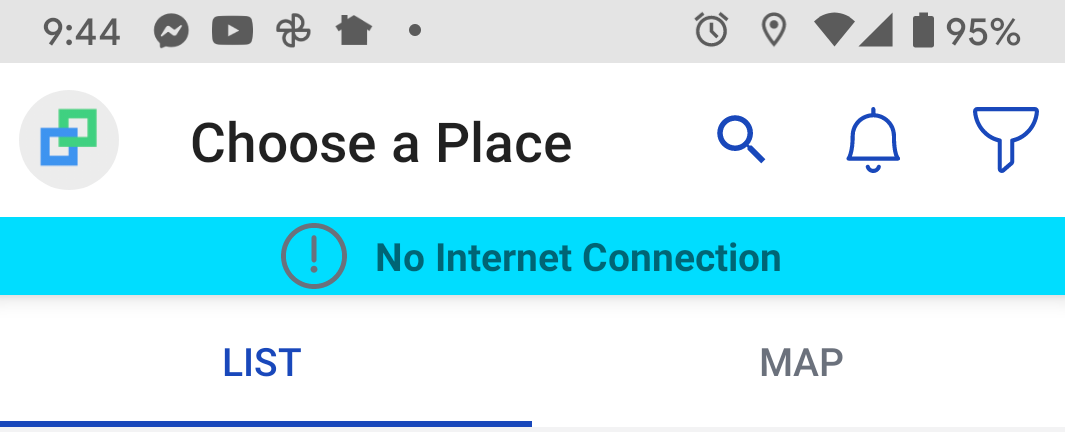 Online vs Offline Feature Comparison
| | | |
| --- | --- | --- |
| FUNCTION | ONLINE | OFFLINE |
| Access Place List | X | X |
| Refresh Places | X | |
| Access Place Details | X | X |
| Access Contacts Tab | X | X |
| Create, Edit & Delete Contacts | X | X |
| Access History Tab | X | |
| Start a Mission Response | X | X |
| Submit a Mission Response | X | X |
| Copy & Start Mission Responses * | X | |
| Share a Mission Response * | X | |
| My Activity | X | |
| Submit a Mission Response | X | X |
| Add a New Place * | X | |
| Access an InfoLink | X | |
| Access MyDashboard * | X | |
*Feature will only be available if enabled in Company Settings
Submitting a Mission Response while Offline
You can start and submit Mission Responses at any Place that you had access to the last time you were online. When you've completed your Mission Response, tap Submit. GoSpotCheck captures the timestamp and GPS coordinates of your current location, and gives the Mission Response a status of Waiting to Upload. You can review all Mission Responses that are Waiting to Upload in My Activity.
Later, when your connection is restored, GoSpotCheck automatically submits your response, logging the original timestamp and GPS coordinates. That means that the Mission duration and your distance from the place will be reported as though you never lost connectivity at all.