Enable a Place
If a Place is disabled by accident, or it needs to be active again, you can locate the Place and re-enable it.
From the main navigation bar, select Places. Once there, select Disabled in the top left corner.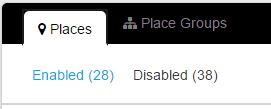 Select the Place you want to reactivate, then click the Enable button that corresponds to that Place.

The Place is then immediately enabled.