User Notifications: Mobile
If your company Admins have enabled this functionality, you can receive Notifications about Missions directly within the GoSpotCheck app on your mobile device. This will ensure that you're receiving important updates from your organization right away, so you always have the latest detail about your Missions, even when you're in the field.
In-App Notifications
You don't need to enable Notifications on your device to receive In-App Notifications. If your Admin turns these on for your Mission, you'll see them in the mobile app. They will be marked by a red dot in the main menu hamburger icon. Tapping on the menu icon will also reveal a red dot next to a Notifications label. The number inside this dot indicates the number of new messages available to you.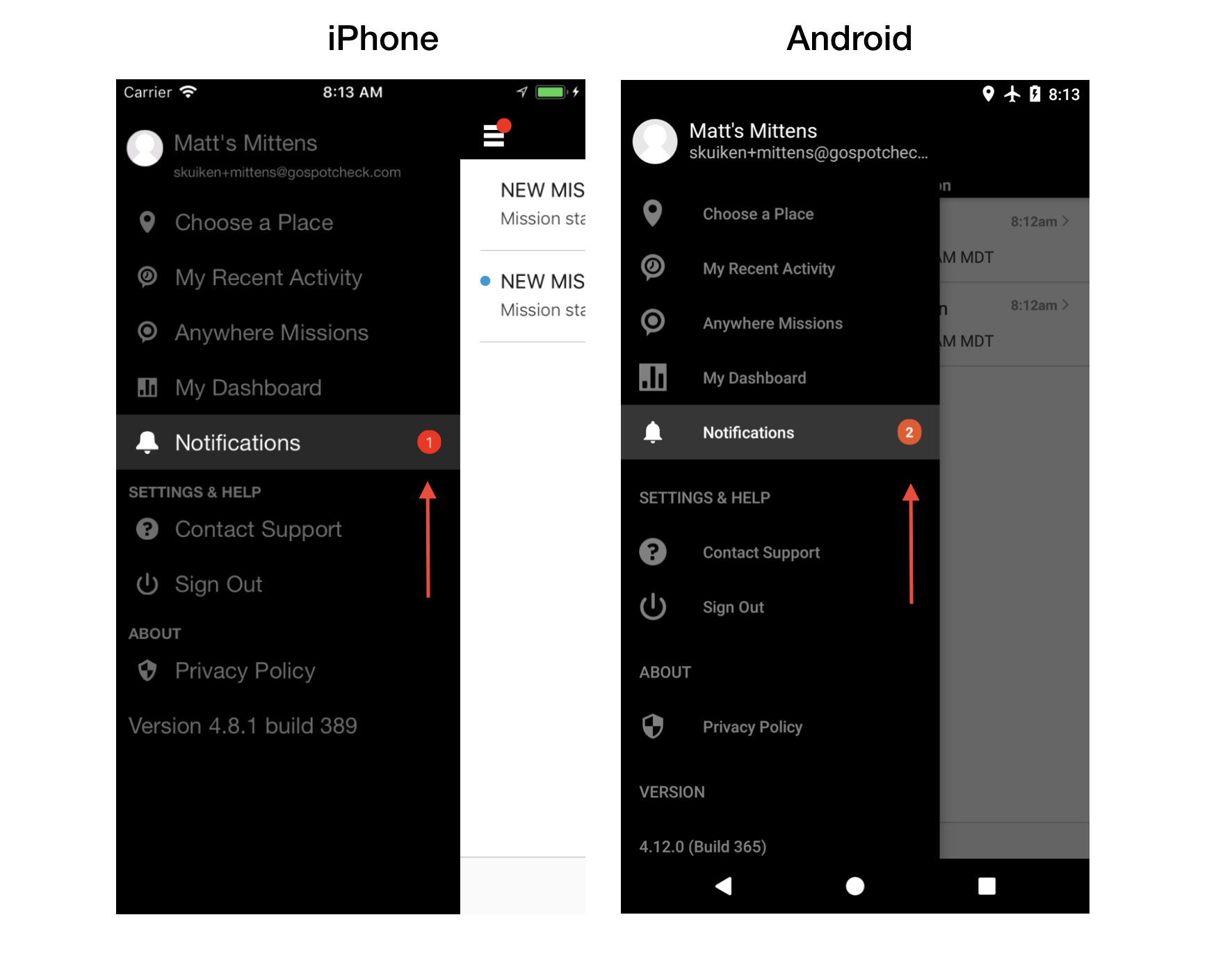 Tap on the Notifications menu item to view a list of messages. On this screen, any unread messages will be marked with a blue dot: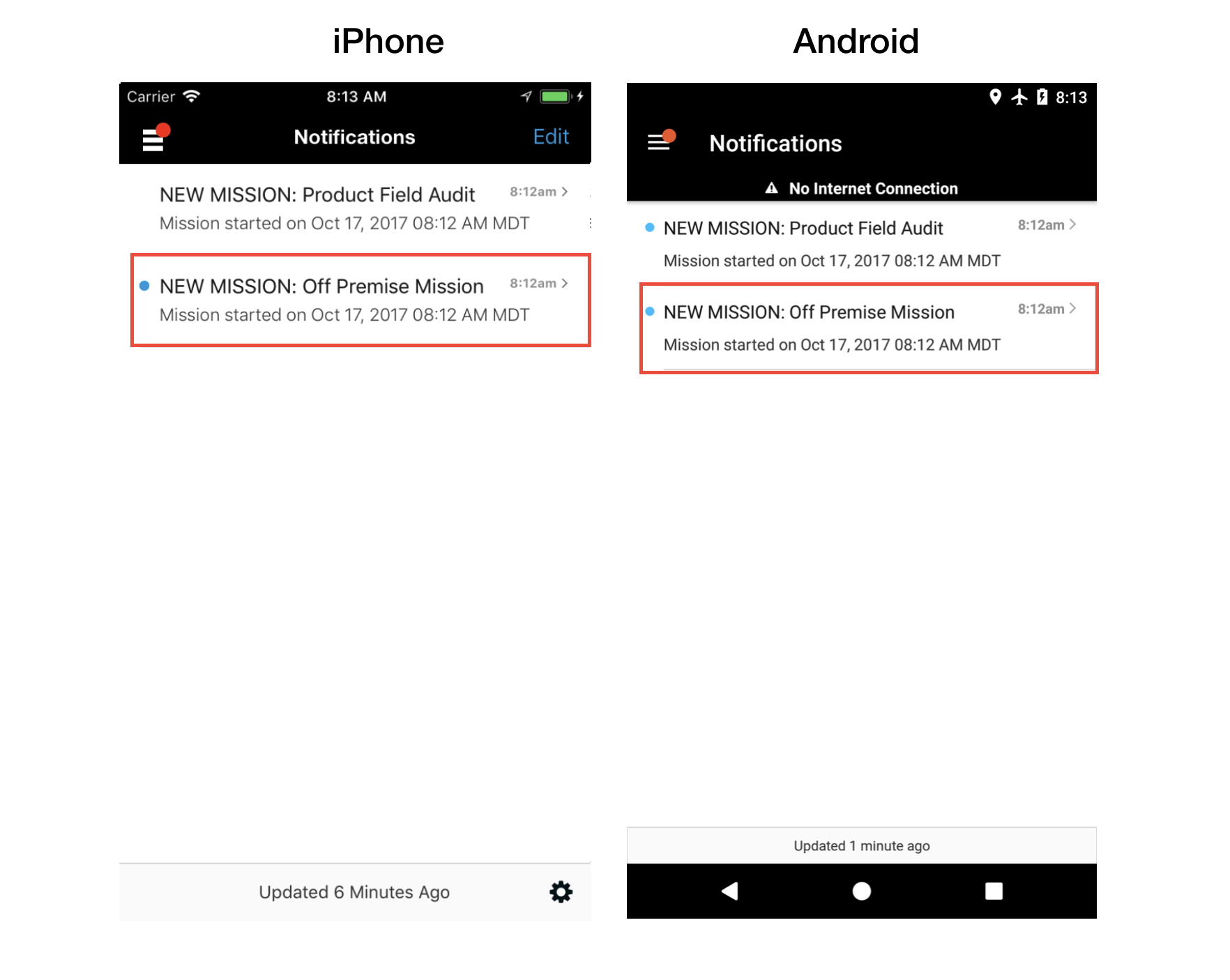 Each message will indicate the type of Notification (ex: STARTED for a started Mission), the Mission Name, and the Date.
Tap on the message to view the message body. These Notifications may contain text directly from your organization, with instructions relevant to your Team and your Mission. They will notify you when Missions are starting or ending, and might also contain custom text regarding the purpose of the Mission, scoring, KPIs, etc. – anything you need to know to collect data more effectively!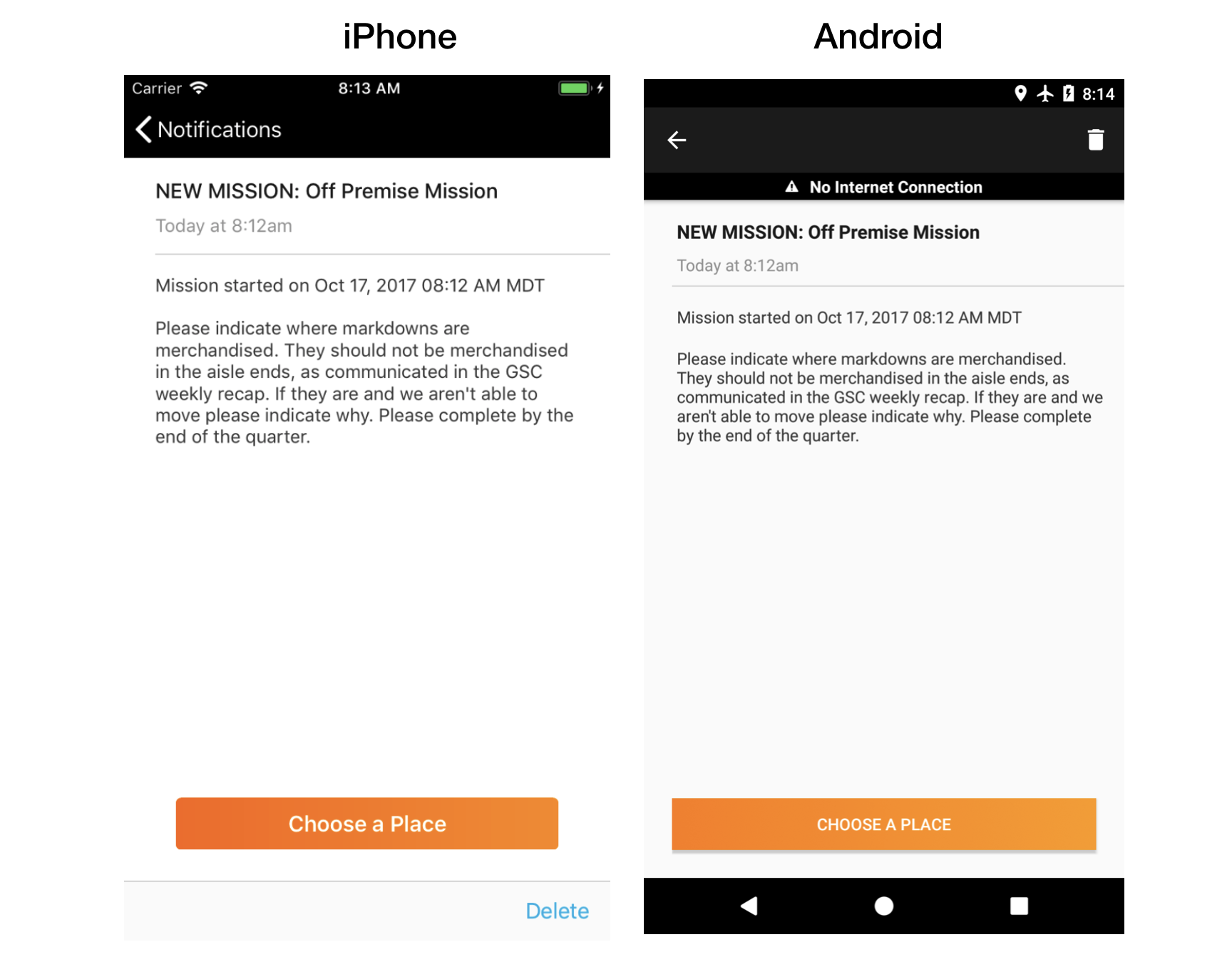 Tap the Notifications arrow in the top left to return to the Notifications list view. You can also tap the Choose a Place button at the bottom of the screen to go directly to the Choose a Place screen from the Notification screen.
To delete a message, swipe left on the list item. You can also tap Edit, then select messages to Mark as Read or Delete. To leave the Edit screen, click Cancel.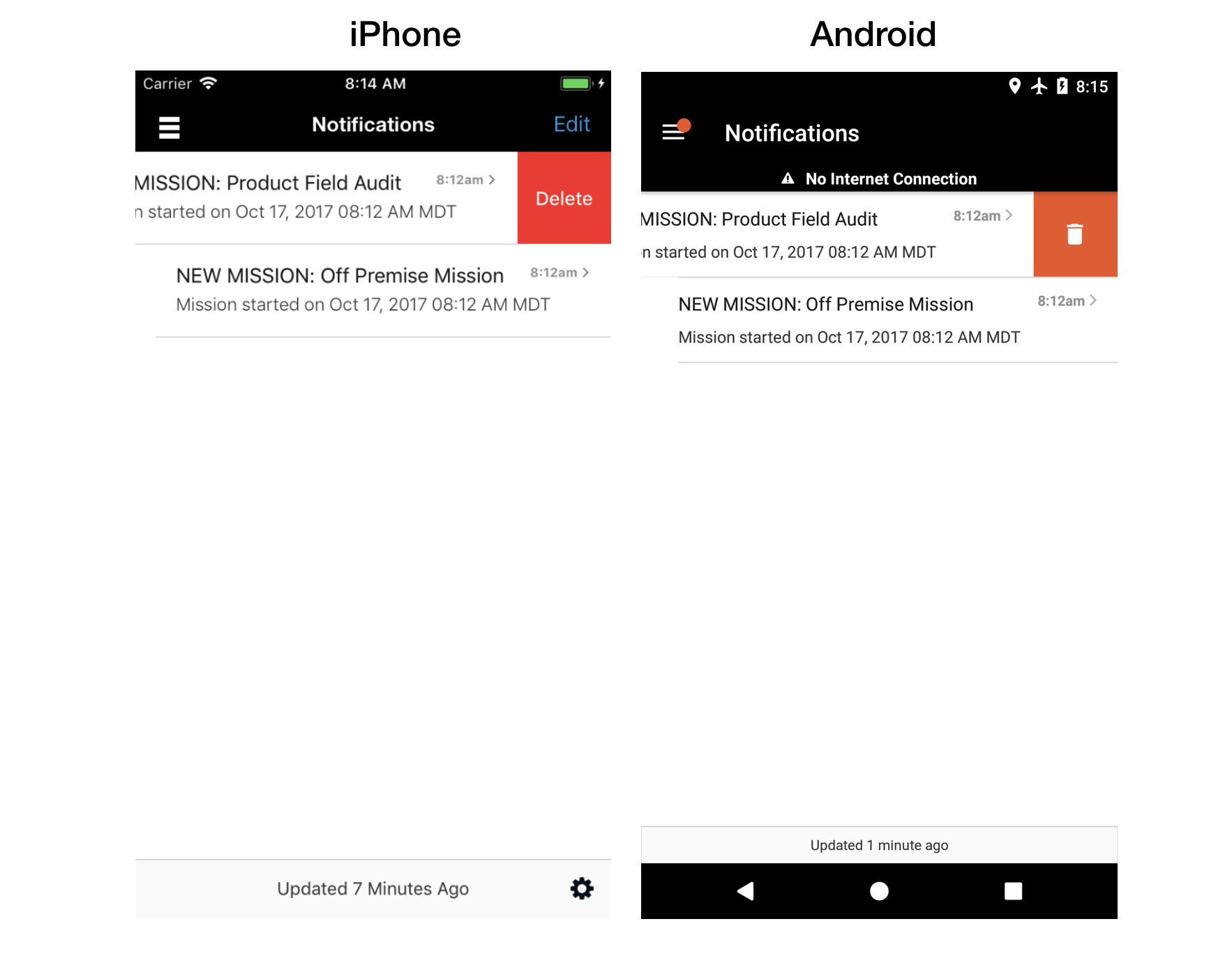 To refresh your Notifications, pull down on the list.
Push Notifications
This is the second type of Notification available. When the Get Notified screen appears in the app, you'll need to click Yes, Notify Me and then Allow on your device's interface in order to view Push Notifications.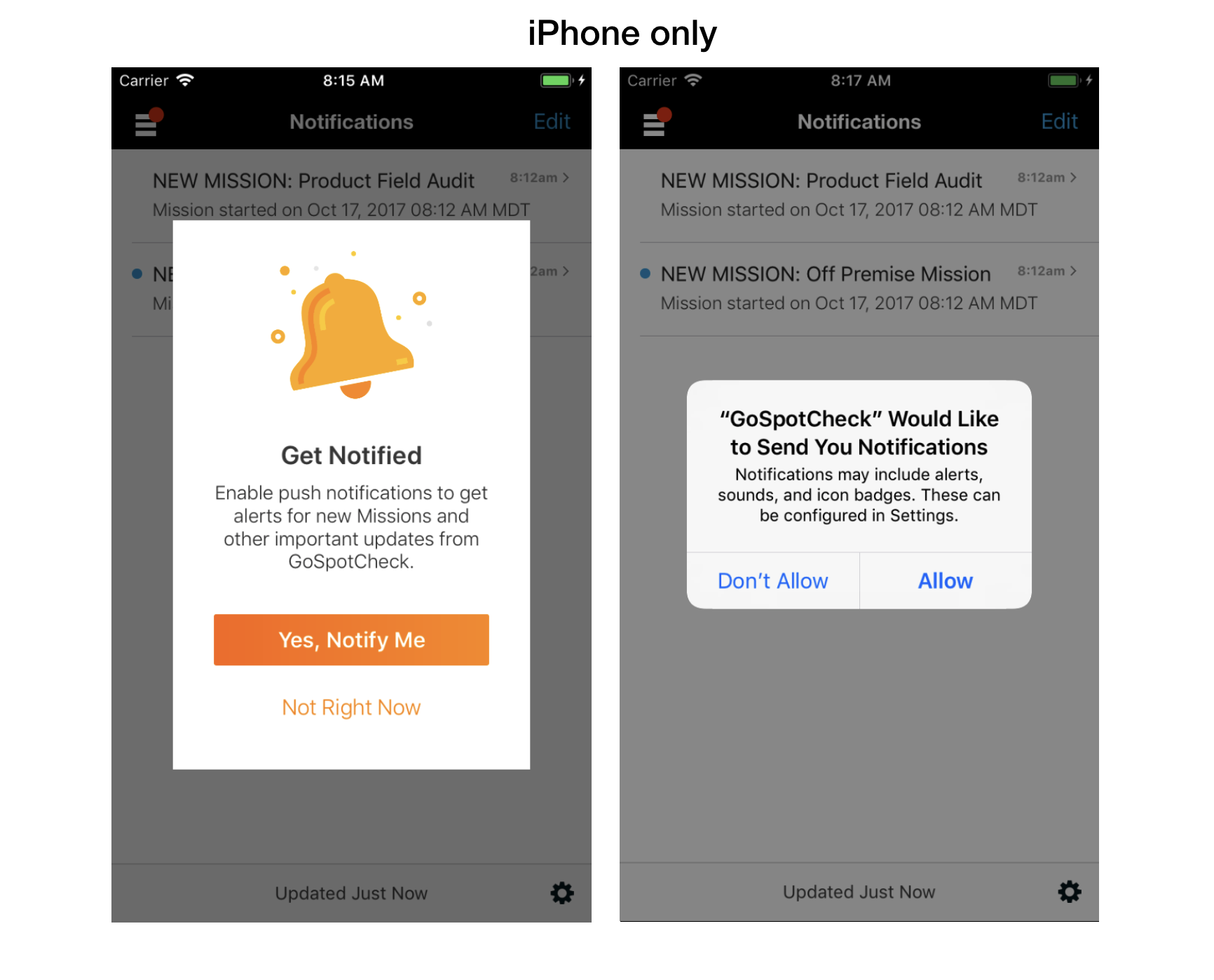 Push Notifications will appear on your device as banners or as badge icons, depending on your device. Banner Notifications are only visible one time and will not include any custom text from your organization; they will just let you know that you have Notifications available in the app. On iPhones and iPads, the badge icon will indicate your number of unread messages.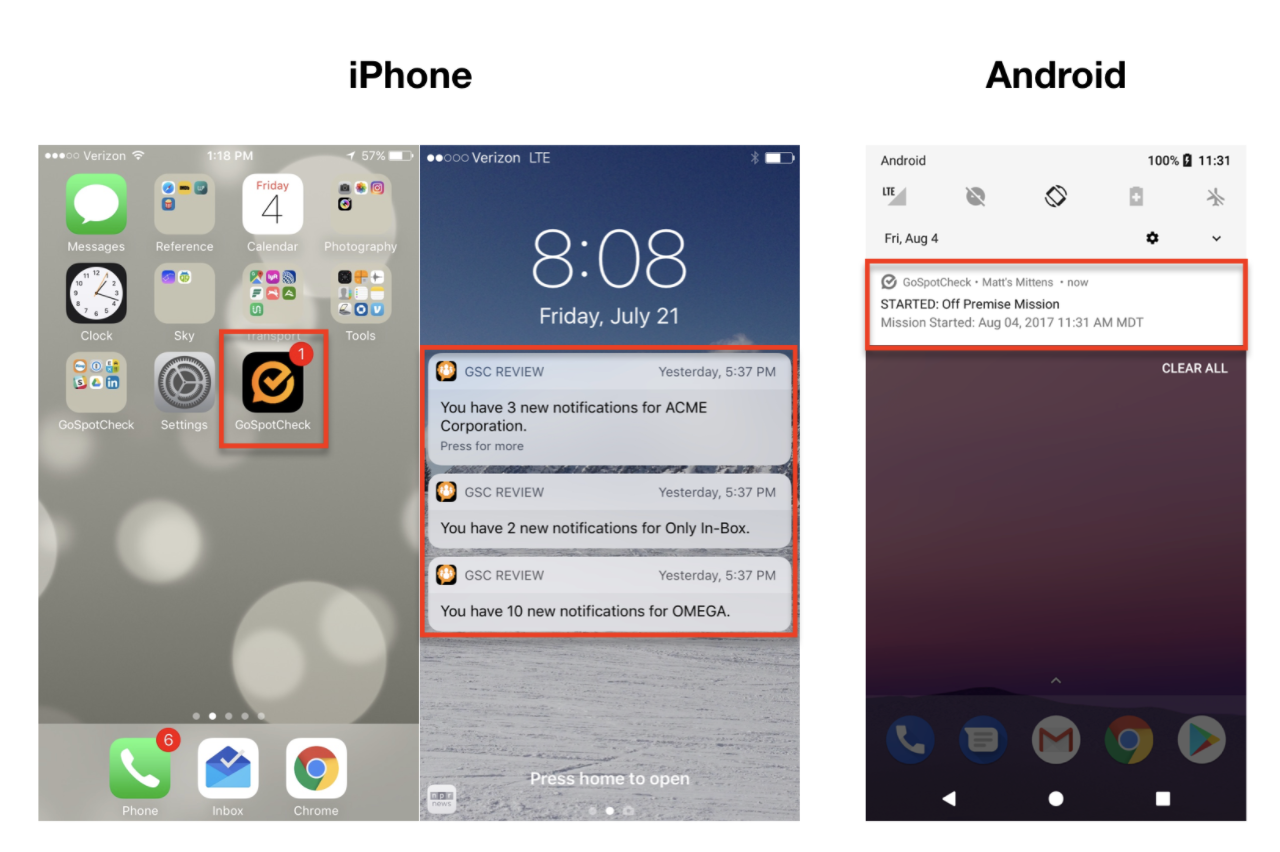 Taking action on these Push Notifications will take you to the GoSpotCheck app, where you can view and edit the in-app Notifications as described above.